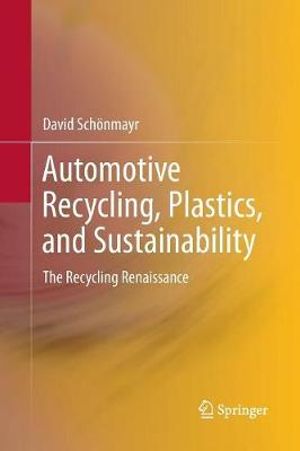 This book provides trans-disciplinary analyses of the automotive plastics production and recycling system, including prognoses, scenarios and solutions for corporate sustainability management.
A book on plastics, not written by a plastics guy. But a sustainability guy. Plastics schizophrenia and the automotive abyss: The industry is facing a severe challenge. It is the inevitable and promising change towards a sustainable economy. However, the automotive industry is primarily concerned with the CO2 emissions from cars when driving, while the rise of lightweight plastics, electric drive and heavy batteries make the production and end-of-life phase ever more important. Therefore, the currently increasing use of non-sustainable virgin plastics in cars has to be tackled.
The plastics and the automotive industry now have a chance, and this chance is the Car Recycling Renaissance.
This book offers:
* Holistic and transdisciplinary overview on sustainability and automotive plastics from all angles including economy, ecology, technology, and politics with a focus on Europe
* Concise analyses, prognoses, tools and a roadmap with solutions for companies, developed together with international experts from industry and academia
* Strong scientific basis and independent research including a Europe-wide survey, expert interviews, and workshops
* More than 80 illustrations and 15 tables including a SCOT analysis
* Executive summaries after each chapter for fast reading
"The uniqueness of this book lies within the different point of view on this topic from a critical, outstanding scientist." – Univ.-Prof. Dipl.-Ing. Dr.mont. Pomberger, Montanuni Leoben
Learn more about the book here: Booktopia
If you are wanting to recycle your car, our team have had personal experience with Cash For Wreck Cars and recommend them as a reputable car recycler.
Learn more about them here: https://cashforwreckcars.com.au